After nearly a century of turning locals into homeowners, we know a thing or two about making your dream home happen.
Key Features
Competitive Rates
Variety of Programs
Free Pre-Qualification
Refinancing Available
Competitive rates for home purchase, refinance, or construction.
Available for primary residence, second homes, vacation homes, or investment properties
A wide range of terms customized to your unique situation
Variety of financing programs available
Helpful loan advisors with working knowledge of the local real estate market
Free pre-qualification for extra confidence when buying your home
Refinance your current home to potentially lower your rate
Quick, local decision-making and processing
Attentive, friendly service from start to finish
GPO's In-House Fixed Rate Mortgage Product
GPO's Lifestyle Mortgage is the perfect option for members who want a mortgage with a historically low-rate and less-than-average closing costs.
Lifestyle mortgages stay with GPO for the life of the loan and not sold to the secondary market.
Fixed rate mortgages
20, 15 or 10-year terms available
Easy payment plans that can save you thousands of dollars over the term of the loan
Up to 90% financing*
No points
60-day rate lock
Average closing costs are less than typical
No Mortgage Insurance is required.
Cash-out is allowed
Minimum loan amount is $30,000
Primary residence, second home or investment property.
Refinances are allowed
Fixed Rate
For those who prefer regular payments with no surprises, with limited or fixed income, who plan to stay in the home a long time. Or, for those who are buying when rates are low.
30, 20, and 15-year terms available
Extended rate locks
Purchase and refinance existing mortgages with a fixed rate, can also be used for a second home, investment properties, one to four-family homes, condos, manufactured homes, housing and urban development properties (HUD), and planned unit development (PUD) properties.
Adjustable Rate (ARM)
For those who want to free up money in the short term for other investments, or that plan to move or refinance within a few years. This may also allow you to qualify for a larger loan amount than you would be able to with a fixed-rate mortgage.
One year ARMs, convertible and non-convertible
Extended rate locks
5/1, 7/1, and 10/1 ARMs available
Purchase and refinance mortgages with up to 95% financing. Also can be used for one to four-family homes, condos, manufactured homes, housing and urban development properties (HUD), and planned unit development (PUD) properties.
Attractive capping structure
GPO is a shareholder of OwnersChoice Funding. OwnersChoice Funding serves credit union members throughout New York by offering a variety of mortgage options with competitive rates.
Members with mortgage loans serviced through our mortgage partner, OwnersChoice Funding (OCF), have the ability to make their payments via ACH to OCF, mail a check to OCF or now pay their mortgage on their internal GPO account at the teller line or via mobile and online within their GPO account to their OCF mortgage suffix.
Members will now be able to log in online and see a suffix set up on their GPO account that will be associated with their OCF mortgage. This suffix will be #50 – and described as 1st MORT OWNCH. This suffix is set up solely for making payments on your mortgage account.
For those who have limited funds available for a down payment (as low as 3.5%), or if the down payment will be gifted.
You can have a lower minimum credit score to qualify for a Federal Housing Administration (FHA) mortgage, but will still need a regular income and employment stability
This mortgage option may help if you have a previous bankruptcy or foreclosure
For eligible veterans, service members, and surviving spouses, this option has no down payment requirement under certain conditions, and private mortgage insurance is not required.
For low and moderate- income rural home buyers in a qualifying region. There is no down payment required, and sellers concessions are allowed.
Don't be stressed about the home-buying process... GPO's mortgage originator Lisa will walk you through the mortgage process from start to finish.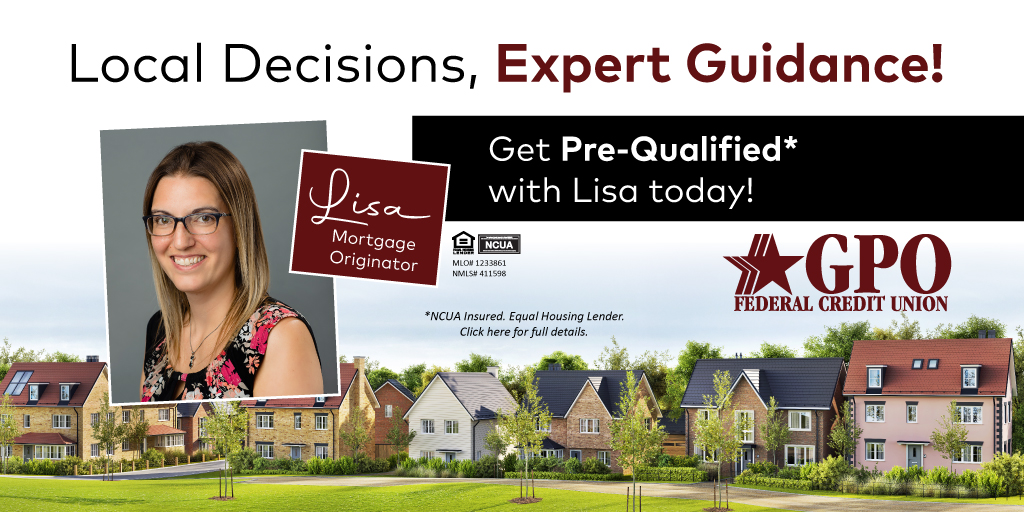 For mortgage inquiries:
Lisa Wilson | Mortgage Originator
MLO # 1233861
(315) 724-1654 ext. 2955 or [email protected]
For other home lending inquiries:
Member Service Center
(315) 724-1654 option 2 or [email protected]
NMLS# 411598
Rates and terms may change at any time and without prior notice. Your actual rate, payment, terms and costs could be different. Get an official Loan Estimate before choosing a loan. Your rate, fees, and terms may differ based on when your rate is locked, actual occupancy status, loan purpose, loan amount, credit score, debt to income ratio, loan to value ratio, etc. The payment examples do not include mortgage insurance. The actual payment will be higher if mortgage insurance is required on your loan.